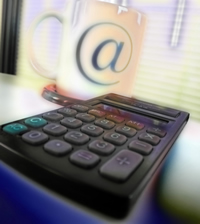 Subscriptions to our calculators are easy to use. You will be emailed a link (Examples) that you can include in your web page source. That's it!


1 Calculator
Entire Calculator Group
Industry Grouping (i.e. Financial Calculators)
Month


(Subscription)

$4.95
$14.95
$44.95
Year


(Prepaid Subscription)

$49.50
$149.50
$449.50
Lifetime


(Prepaid Subscription)

$148.50
$448.50
$1,348.50
We offer interactive calculators and health assessments to service almost every industry. If you don't see a calculator or assessment you want, send us a detailed description of what you need and we may add it.
For a small monthly, yearly, or lifetime (one-time) subscription fee our calculators will be made available from your web page, either embedded or as a separate popup window. (Examples) While all of our calculators have a common look and functionality, each is designed to be fully customized (company or website name, logo, colors, fonts, default values, etc.) so they integrate seamlessly into your web page design. (Examples)

Your subscription also means all updated calculators are automatically reflected on your web page. (How?) If you have a group subscription, you will also have access to any new calculators created in that group.